12 / NOVEMBER : -> OUT NOW <-

LIVING IN HELL - "Sociedade Violenta" CD
TERR052
1000 CDs

In their first full lenght, the Porto Alegre/Brazil based band, ex-members of UNIDOS PELO ODIO and GRITOS DE ALERTA, delivery 10 new tracks of brutal dis-crust, melting DISCHARGE with 85-90's era crust and the energy and heavyness of crustcore along with socio-political lyrics. Sounds like DISCHARGE meets DOOM meets WOLFPACK, with special guests of Lazze/RIISTETYT and Glauco/DEATH FROM ABOVE.

Check out for "Enganados pela Fe" video on youtube.



BESTHÖVEN - "Quando a bomba explode" CD
TERR051
1000 CDs

43 songs of the epic Dis-cimex attack straight from the subs of Gama City, Brazil. Includes all vinyls from 2007-2008 being split 7"s with WARVICTIMS, SEE//GET, ALTERNATE SYSTEM, SUBURBAN SHOWDOWN, comp V/A MUERTE NEGRA, SEEKING SHELTER IN THE DARKNESS OF WAR LP, VISIONS OF HELL EP, the still unreleased LIVE IN HELL album and covers of DISCLOSE, DISASTER and DISCARD.


FEAR OF FUTURE / DISTURBIA CLADIS - split 7"
TERR047
500 7"s on black

Classic albums reissues are cool but what really keeps the punk flame burning is the space given to new bands/projects! And we are glad to announce that Terrötten is one of the labels responsible for releasing this split with two promissing São Paulo punk/crust bands. FEAR OF FUTURE is formed by HELVETIN VIEMÄRIT, DISKÖNTROLL, KRONI, SUBMIT and UNFIT SCUM members and their sound is something on the lines of a drunk discussion about a post apocalyptic future while GBH, PUKE, JUDAS PRIEST and the "The Vikings are Coming!" compilation blasts on the stereo. On the other hand, DISTURBIA CLADIS is brazilian finest madmax metalpunk unit sounding like a Black Block meeting in an Anton LaVey mass with VOIVOD, ANTI-CIMEX, VENOM and MOTORHEAD as soundtrack! Satanic metal punx domination. Two major brazilian reasons to not give up on the good/old punk rock!
29 / NOV: RIISTETYT - "Korppien Paraati" LP / CD

LP Co-released w/ Stupido/Finland. Terrötten distribution by Havoc and Ebullition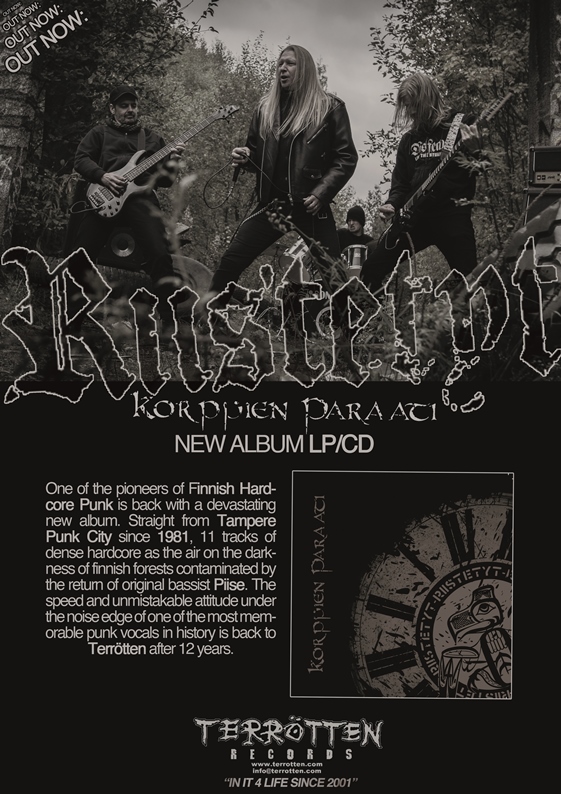 http://www.soundcloud.com/riistetyt
youtu.be/MxyayhGOJig
http://www.facebook.com/riistetyt


TRADES welcome, contact us, our parcels ship from USA.

WHOLESALE AND MAILORDER:

EUROPE/ASIA: IMMINENT DESTRUCTION
https://www.facebook.com/ImminentDestructionRecords
imminent-destruction@hotmail.co.uk

AMERICAS:
Havoc Records info@havocrecords.com
Ebullition ebullition@earthlink.net